Cooking naturally, appliance.
A tool that helps people to reduce food waste.
Interaction Design Master Degree, Iuav University of Venice.
Supervisor Davide Rocchesso and Philip Tabor.
---
Cooking Naturally aims to change people's use of food resources, reducing waste by creating a direct channel between people and the information cloud surrounding the theme.
All, a kitchen device that allows a better exploitation of this information, is both a display appliance and a filter which adapts its behavior according to the user's habits.
It is designed for people living in shared accommodation or alone. Due to their living conditions and lifestyles, and to how food is currently distributed and sold, these are the categories most exposed to food waste.
Through All, such people can receive advice on grocery shopping and food conservation, preparation and consumption. As it is used, All learns to recognize its users, improving the advice depending on each individual's behavior.
All is used in the kitchen during food preparation and consumption. It can recognize the person using it and understand words and gestures. All integrates itself in the habitual dynamics of this environment. Making people concentrate on normal tasks, like preparing a recipe or conserving food, it becomes a tool that improves the experience of responsible cooking, not the focus of the experience.
---
Concept
This project's aim is to generate behaviour change in the management of food, reducing waste by analysing the user's living environment and cooking habits.
Objective
The main objective is to reduce food waste: every year we throw away the 40% of food present in the house.
Strategy
The strategy behind All is to design a product able to connect the end user to the huge amount of valuable information around food consumption available online.
In the last few years the topic of food consumption, waste, and planning of cooking activities has been the subject of various publications available on and off-line. All could be one of the ways to understand how people behave in the kitchen and provide a sensible guidance to reduce food waste at home.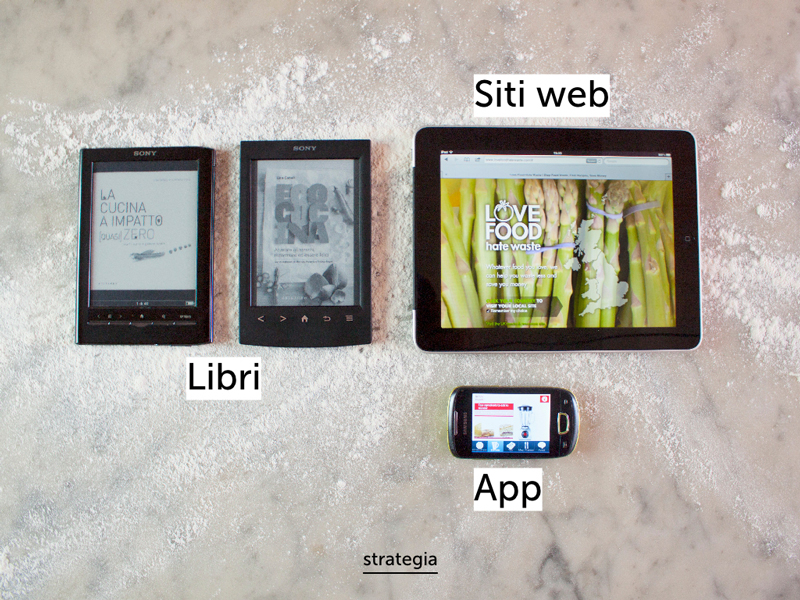 Users
All is designed to cater for people living in a house share: they are more mobile, find a limited offer on the supermarket's shelves and perhaps have less time to plan their grocery shopping carefully, therefore they tend to waste more than a family.
---
All connects people with the cloud of information relating to not waste food. All attempts to create a sense of belonging to these communities, trying to give people who use it, the motivation to improve their behavior.
Provides in over consumer tips, according to the basis of certain criteria such as the date of expiration of the food, the type of food, time, season and the place where you are. To make sure that people consume fresh food when it is far from its decay, and the recommendations are appropriate to people.
All is a tool allowing users to to manage their grocery shopping. All provides an analog, paper-based inventory of the items present in the kitchen and helps the people sharing the kitchen to plan their next move in an effective way.
With All you can print a small paper inventory of food in the house, to help people to draw up a shopping list and avoid the tenants of the same house, a strict division of space.
---
---
---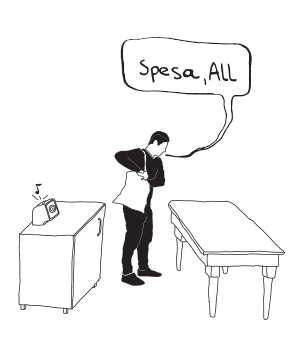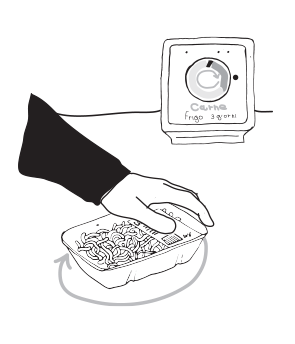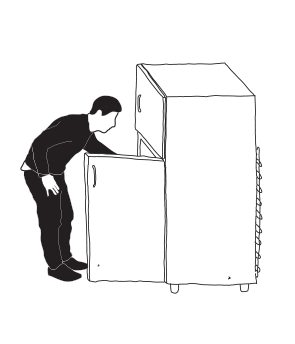 Cooking naturally publication
Check out my thesis pubblication for more details, like 3d modeling, graphics, gestures instruction.